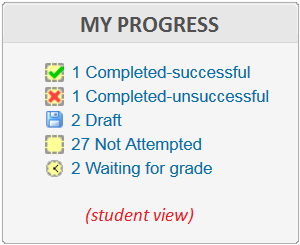 ♦ Type:

Block
♦ Compatibility:

Moodle 2.9 – 3.2

(older versions available, but not maintained)
The My Progress block provides students with a quick overview of their progress within a course. Note that only users with the student role can see this block. If a course has Completion Tracking enabled, the following completion statuses are shown:
Not Attempted: These activities have not been submitted
Waiting for grade: These activities have been submitted and are waiting for teacher response
Draft:  These assignments have been saved but not submitted for grading
Completed: The completion criteria has been met for these activities (usually this means that a grade has been awarded)
Completed – Unsuccessful: These activities did not meet the "grade-to-pass" value
When the student clicks on any of these links, he/she will be shown a list of the respective activities.  This block works best with the Tabs course format, since it uses the same activity completion tracking icons.