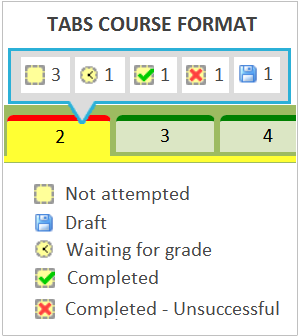 ♦ Type:

Course Format
♦ Compatibility:

Moodle 2.9 – 3.2

(older versions available, but not maintained)
The Tabs Course Format is a versatile plugin that contains a tab-based navigation layout and a customized version of the completion tracking system.
Tabs: Each section is shown in a tab. The tab titles, colour scheme, behaviour, and other elements can be controlled in the configuration section.
Completion tracking: In addition the the regular completion status icons that are standard in Moodle, the Tabs Course format also includes status icons to identify assignments are in "Drafts" mode and submitted activities that are  "Waiting for grade". When a student saves his/her work but does not submit, it is displayed with a "Draft" icon. When a student submits an activity, it is displayed with a "Waiting for grade" icon.  Completion tracking is also shown within the tabs section; when all the activities in a section (week, topic, etc.) are complete, the bar above the tab turns from red to green. Activities that have completion tracking enabled are also shown in a "bubble" with a background colour that corresponds to its completion status (see screenshots below). These enhancements allow students to track their progress with more clarity and transparency.