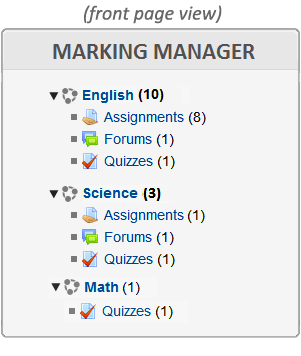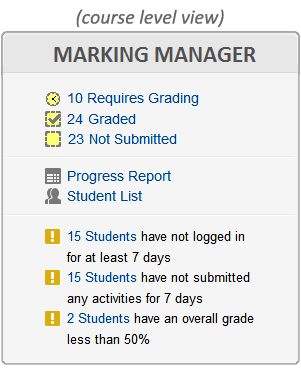 ♦ Type:

Block
♦ Compatibility:

Moodle 2.9 – 3.2

(older versions available, but not maintained)
At the site level (front page) the Marking Manager block lists all Assignments, Forums and Quizzes that require grading. At the course level, the Marking Manager has 2 parts:
Block: provides quick overview of the number of Assignments, Quizzes and Forums with the following status:
Requires Grading
Graded
Not Submitted
Clicking on these status links  will open the marking Interface. The block also contains links to a custom Progress Report (see screenshot below). At the bottom part of the block, a status report shows the number of students that:
have not logged in for x days
not submitted actities for x days
have a overall grade less than x percent
Marking Interface: allows teachers to grade Assignments, Quizzes and Forums within a single interface. This interface consists of a left section, where activites are selected, and and right section, where activties are graded. See screen shots below for more info.